"Oyez! Oyez!" Bracebridge's Town Crier Bruce Kruger was one of many on hand to welcome nine future graduates of the Northern Ontario School of Medicine to Muskoka (NOSM).
"We're hoping very much they will find Muskoka is the best place in Ontario to live and will stay," says Moreen Miller, Chair of the Board of Muskoka Algonquin Healthcare (MAHC).
Miller was one of a handful of dignitaries who were part of the welcoming committee at Peake Fields in Bracebridge Thursday. Prior to being dropped off, the nine students were driven around town along with Mayor Rick Maloney and Deputy Mayor Brenda Rhodes. The students will spend the next seven months working with MAHC at either the Huntsville District Memorial Hospital or the South Muskoka Memorial Hospital in Bracebridge as they continue their education and try to figure out where they want to bring their careers.
The tour made stops at some of the landmarks in Bracebridge.
Maloney says it has become an annual late summer tradition for NOSM students to visit the area. "We've had some great success with our efforts to bring NOSM students to Muskoka," he says, adding it's thanks to a partnership between the university and MAHC.
Students were given gift bags full of some downtown Bracebridge businesses and were given the chance to do their best impression of Kruger.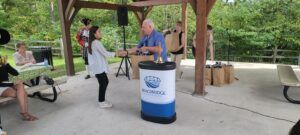 He points out how many places in Ontario – and Canada – are having difficulty recruiting so having a partnership like this is a great opportunity.
Third-year medical students Tyler Pretty and Taylor Murie both agree: the thought of starting their career is overwhelming, but seeing the welcome mat rolled out helps to ease their anxiety.
"We all had fun, had some good laughs, and saw most of what the town has to offer," says Pretty about the tour.
Murie explains the seven-month placement will allow them to work in different medical fields to help them better understand which one they want to work in once they graduate. "We're lucky to have this opportunity," she says.
"They bring youthful enthusiasm to our environment," says Dr. Khaled Abdel-Razek, Chief of Medical Staff for MAHC. "They are very welcomed by all team members and by patients."
For Pretty, living in Bracebridge will be the first time he's away from his family in Thunder Bay. "So far, I find this a beautiful place to be," he says.
Meanwhile, Murie says the warm weather is in stark contrast to the frigid weather in Thunder Bay right now. "I love it here," she says.