A bronze Canada goose statute created by famed artist Siggy Puchta will now call the Muskoka Wharf in Gravenhurst home.
Puchta passed away in 2015 at the age of 81.
The sculpture was donated to the municipality by the late Puchta's wife Eva and his daughter Juanita Shipley.
Shipley explains the sculpture was previously at the Auburn Gallery of Fine Art in Gravenhurst. However, with the gallery set to close, they wanted to find a new home for it somewhere in Gravenhurst. "We thought there is no better location than the wharf," she said.
"We always loved it here," shared Puchta. "Being near the lake is beautiful."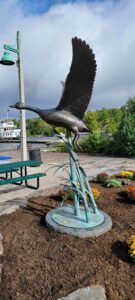 Siggy Puchta was born in Greiz, Germany in 1933 and came to Canada in 1953. He moved to Muskoka in the 1960s and bought a cottage on Walker's Point Rd. in Gravenhurst.
Mayor Heidi Lorenz says Puchta's art can be seen in many places, notably in Toronto where his 12-foot statue of Ted Rogers is at the Rogers Centre and Queen's Park where his memorial for Ontario's fallen firefighters is on display.
"It's a welcome addition to our waterfront," said Lorenz. "I know it will be enjoyed by visitors for decades to come."
With tears in her eyes, Shipley says her father would have loved to see his creation on display at the wharf.
"It's a beautiful spot here," added Puchta. "It couldn't be any better."