A Gravenhurst retirement home is using a re-design to engage its residents with dementia.
Muskoka Shores Care Community is in the midst of remodeling it's dementia unit to look like a village. It is an idea borrowed from European facilities to make people feel less like they are living in a sterile space, and more like they are living life independently in a small community.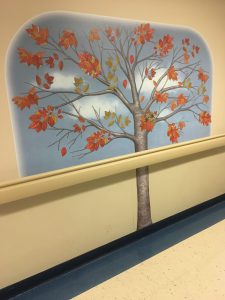 Shari Ecclestone is Director of Resident Programs at Muskoka Shores. She says changing the environment can make a big improvement in the emotional well being of the people living in the dementia unit.
"It takes away that whole institutional feel," she says. "We're just trying to make it more homelike for (residents)."
Ecclestone says as the new decorations, painting, and other add-ons take place, the residents are enjoying the new look.
"As we are making the changes they're actually embracing the changes," she says.
Improvements include large murals mimicking trees, flower arrangements, and doors to individual's rooms are made to look like the entrance to a small home.
"They are walking around (the floor), they are more engaged," she offers. "I believe they feel like they are villagers."
The renovation is around 30 per cent complete with another few phases to go. Eventually, says Ecclestone, there will be a fruit barrel where residents can pick their favourite fruit like they are at a market.
She says the whole senior's residence industry is trending towards these types of floors within a facility to make people with Alzheimer's and other brain-related ailments feel more at ease in their living situation.
"I've been to some conferences lately and that is the direction it is going," says Ecclestone. The parent company of Muskoka Shores is Sienna Senior Living. She says dozens of the senior's residences in her company are going to be renovated in this manner for the various dementia units across the country.
"We're starting to change over all of our homes to this direction," Ecclestone says.