Digital streaming is still king for many music listeners, but Trevor Marshall, owner of The Record Shoppe in Huntsville, says there are two ways for music lovers to get music on an "elevated platform."
For the first time since 1987, the Recording Industry Association of America reports that vinyl records outsold CDs in 2022. However, record sales, which accounted for 11 percent of recorded music revenues last year, were still dwarfed by streaming which accounted for 84 percent.
The report notes that the revenue from vinyl sales rose about 17 percent to around $1.2 billion in the United States. They note that 41 million vinyl records were sold last year compared to 33 million CDs.
Marshall, who has operated his downtown Huntsville store since 2018, says the biggest change he's noticed over the years is in the demographics. When the shop first opened, he says they have only a couple of high schoolers popping in but now he says that the core audience has grown to close to 30.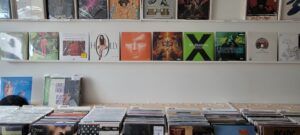 As part of that shift to a younger demographic, Marshall points out that a lot of new artists are putting their music on records. Notably, he points to Taylor Swift who recently broke the record for most vinyl records sold in the first week of its release with Midnights.
"Of course, the industry is going towards records," says Marshall. He says with the albums going for upwards of $40, the profit margin is great. He adds they make more than they do when releasing albums digitally.
While he points out that digital downloads will likely remain the most popular form of getting new or old music, those who want to hear the best quality sound will continue to flock to the closest vinyl record store. "It's about that person that wants that elevated product," he says.