Gravenhurst's Coldest Night of the Year (CNOY) fundraiser organizers aren't surprised the community once again surpassed their fundraising goal.
The goal for the 2023 walk was set at $100,000. As of Saturday morning – the day after the walk was held at the Muskoka Wharf – close to $140,000 has been raised.
"Thank you," says Sarah Hiscox, the co-chair of the CNOY committee. "I can't say thank you enough to this community and the people that donated, the people that just want to walk, the people that volunteered. Every single dollar helps."
Bonnie Dart, chair of GAP, attended the event as she does every year. "The beautiful spirits of this community are shining today," she says. "You can just see it and feel it."
She points out that donations continue to come in well into March.
She says the money will be used to support GAP's "three pillars of service" which are: food, transportation, and wellness programs. "All of those are very much connected to the issues people living in poverty are living with every day," says Dart.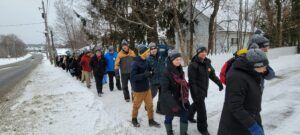 "People have dug in deep into their pockets to help us, to help their neighbours," adds Beth Houston, the other co-chair. "It's just amazing the feeling in this community. Everyone is so pumped up to help each other."
While the temperature was close to -20 the day of the fundraiser, it didn't stop a mass of walkers from bundling up and shuffling through the sidewalks of downtown Gravenhurst. According to the CNOY website, 354 people registered to take part in the walk. Those walkers made up 64 fundraising teams.
"All of the money goes to Gravenhurst Against Poverty (GAP)," Houston points out. "It's really nice to help people and help our neighbours."
Houston adds that GAP's yearly budget is around $300,000. It has money set aside for its weekly meal handout program where Houston estimates they give out over 600 meals every week. As well, they offer free transportation and host coffee socials. "They really couldn't run these programs without the help from CNOY," says Houston.
While Houston has been part of the fundraiser since its inception in Gravenhurst five years ago, 2023 marked the first event for Hiscox. "I just feel like I'm part of a bigger thing," she says. While she says the focus should be on the fundraiser itself, she adds she appreciates the support she was given leading up to the event by the community and her fellow committee members.
Hiscox is already thinking about next year's CNOY. "We want to make this bigger and better every year," she says. The fundraiser will next be held on Feb. 24, 2024.