Former three-term mayor of Barrie Jeff Lehman has been chosen by the incoming District of Muskoka council to serve as the next chair.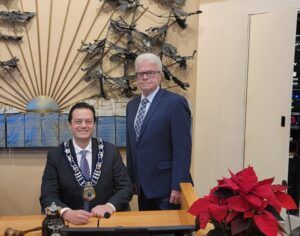 He defeated Curry Clifford, Terry Pilger, Howard Rosenthal, Don Smith, and Tim Withey. He will serve as chair for the 2022 to 2026 term.
In a secret ballot, Lehman was chosen by 13 of the 22 district councillors. Withey received five votes, Smith got three, and Pilger was voted for once.
Outgoing District Chair John Klinck was at the meeting and presented Lehman with the chain of office.
"I'm absolutely delighted and honoured to be chosen by district council to serve as chair," said Lehman. "It's an enormous task to follow the tremendous leadership of John Klinck and move the district forward, but I hope my experience can support our new council as we tackle the challenges Muskoka faces and make a positive difference for our residents."
Each candidate was given 10 minutes to speak prior to the vote and councillors were given the opportunity to ask one question. District coun. Guy Burry asked Lehman if he is committed to staying on as district chair for the entire four-year term. Lehman said he has no plans to run for federal or provincial office during his term as chair. "It's been out there that Jeff Lehman has looked at other aspirations and I would tell you that's been the case as I was completing my term in Barrie," he said. Lehman added that his family's "life circumstances" have changed and he's "excited" to serve the term and serve council.
"This is not a stepping stone," said Lehman.
He added that the expectations people have for the different levels of government are higher now than ever before. Lehman said he looks forward to meeting those high standards with district council. "I know there are great things we're going to be able to do," he said.
The next district council meeting is scheduled for Dec. 19.