A total of 38 firefighters between the Bracebridge and Gravenhurst Fire Departments spent Thursday night and into Friday morning battling a fire at the Fowler Construction yard on Rosewarne Dr. in Bracebridge.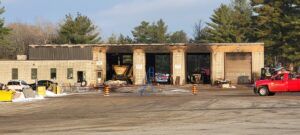 "We can't even estimate the loss," says Mike Peake, Deputy Fire Chief with the Bracebridge Fire Department. However, he confirms there were no injuries to staff or firefighters.
He says they aren't sure of the cause yet.
Peake explains the initial call, which came in at 5:30 Thursday night, was for paving equipment being on fire, however, they haven't officially released what the cause was. He says firefighters will return to the scene Friday morning and continue the investigation.
The fire, according to him, started in a mechanical service bay and spread to adjacent vehicles and storage areas.
Peake says the fire isn't being deemed suspicious, however, he did call the Ontario Fire Marshal at 7:30 Friday morning because the fire was deemed a "community concern." Peake says they're unsure if this will cause service disruptions. "Part of that community concern is we now have displaced employees," he adds, pointing out that the company's offices were attached to the building that was on fire.
It's not known yet how much damage was done to the office space, Peake says. "It held a lot of paperwork, files, and maintenance manuals," he explains. "We've been back and forth all night battling that."
He adds there was a transport truck in one of the bays that caught fire as well as multiple half-tonnes, sanding trucks and the transport truck had a trailer attached.
Peake says firefighters originally left the scene at 11:30 Thursday night. "We basically got cleaned up in time to get called out a second time," he says. They returned to the scene around midnight and remained until 2:30 Friday morning. They went back six hours later to clean up.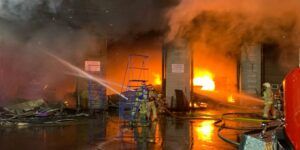 There were no fire hydrants on the scene so Peake says the tankers rushed to the end of Barron Dr. and in front of the Bracebridge Municipal Office on Taylor Crt. to fill up.
The Gravenhurst Fire Department sent two tankers and eight firefighters and, according to Jared Cayley, Fire Chief for the Gravenhurst department, they stayed on scene for around two-and-a-half hours.
According to Peake, the Bracebridge department had six trucks on the scene, including three tankers, and around 30 firefighters.