The North Simcoe-Muskoka District Labour Council sent a message – in chalk – to Parry Sound-Muskoka MPP Norm Miller last week.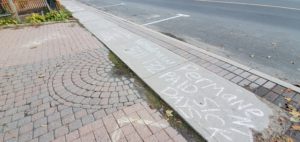 President of the Labour Council Mike De Rose says this is their first time holding a protest using chalk. "We are always looking to engage with our elected representatives," he tells the MyMuskokaNow.com newsroom. He adds that it's been a struggle getting their message out during the COVID-19 pandemic, so they thought this was a creative way to do it. "We wanted to leave a message for (MPP Miller) that we know he would see," De Rose says.
"I think it's a creative way of holding a protest during the pandemic," Miller says. The messages were written last week on the sidewalk in front of Miller's Bracebridge constituency office.
"We know that people were struggling with employment, housing, decent wages, and quality and affordable childcare before COVID-19," De Rose says. "Now with the complications the pandemic has brought us those issues seem to be compounded."
"Many people are facing challenges right now," Miller says. He points to the work being done at the top by Ontario Premier Doug Ford and his government in re-opening the province safely and doing everything possible to help people who lost their job during the pandemic. He says local company True North Printed Plastics has been given a boost by the government who invested $2 million to create jobs. The Bracebridge-based company is helping create masks to be distributed throughout Ontario.
As for what's next, De Rose hopes the messages they wrote helps to kick start a conversation. He says the Labour Council wants the government to build policies that address those issues and build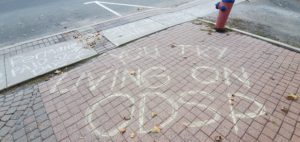 equity and fairness. "That conversation should include our elected officials," he says.
"They're open to discussion," he says on a potential meeting with Miller, adding it's what they do with the information after that becomes "problematic." De Rose says the MPPs often end up towing the party line.