Despite a large number of upset people, part of the Scotch Line Trail is staying closed until September.
The Queen Elizabeth II Wildlands Park Superintendent Jason Dwyer stood firm that there is no way that the section of trail is going to open this year.
What was supposed to be a meeting about the park attempting to transition into an operational-managed park turned into a heated discussion last night at the SG Nesbitt Community Centre.
Although Dwyer and Minden Hills councillor Pam Sayne were there to discuss the overview of the park and some parking concerns within the part of the park that touch Minden Hills, the crowd emphatically wanted to talk about the closure of the trail.
Dwyer told MyHaliburtonNow.com the trail "meanders in and out of the park" and it is not a full closure, only the section west of the outhouse junction is being closed to protect species at risk.
Throughout Dwyer's powerpoint presentation, he touched on the various species at risk like small birds that nest on the trail. Trying to better understand why they can't go on the trail, the concerned crowd asked Dwyer to provide fact-based evidence showing how these species were further at risk because of their riding that trail. Dwyer did not have any paperwork and said several times that the park's biologist would know that info, and he wasn't there.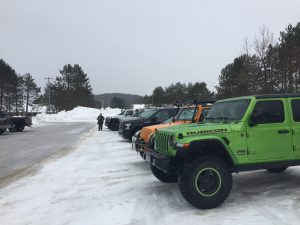 A lot of the four-wheelers suggested the decision was going to hurt the local economy, as well as impact businesses that take people on four-wheel adventures that now can't train novices on that trail.
One Toronto business General Manager pointed out that he as an employee and others have spent over $75,000 in Minden over the past 10 years. He goes on to say that although they only send groups of 10 down the trail at a time, their annual charity event for the Haliburton Highlands Health Services averages 200 to 250 vehicles using multiple trails over the span of a weekend.
Another issue brought up regularly was the fact there was no discussion before the closure happened, and many felt that they were told about it this week. Dwyer says that he sent out notice back in October, a point that was disputed by the crowd.
Trying to calm the crowd, Minden Hills Mayor Brent Devolin suggested he will bring this concern up when he attends the Association of Municipalities of Ontario meeting in August, an idea that didn't sit well with the impassioned crowd.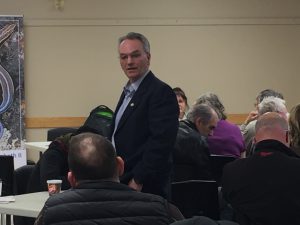 After a lengthy discussion, the mayor promised to contact Haliburton-Kawartha Lakes-Brock MPP Laurie Scott to arrange a meeting with the Minister of Environment Rod Phillips to see what can be done.
According to Dwyer, the decision is only an interim one and it could change in the future.