It's a job he has been waiting to do for months.
Paul Kelly, who was acclaimed to his new job of Mayor for the Town of Gravenhurst, says it has been a long few months waiting to get started.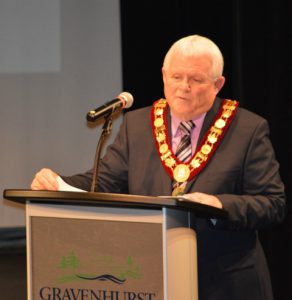 At a ceremony last night a large crowd cheered on the 2018 to 2022 council, which includes five new councillors.
"It was four months in the waiting," admits Kelly with a chuckle. "But I felt really prepared for it.  I was ready to go a month ago."
He says seeing all the people supporting members of local government made for a good feeling at the packed Gravenhurst Opera House.
"People were very excited about new council," says Kelly. "About new direction, about new opportunities, new possibilities.
"I think there is a hopeful feel."
The first "real" meeting of the new council is December 18th. Kelly says it will be crucial to have a measured approach to getting a relatively new council used to the ins and outs of how business is done.
That mean's not trying to take on too much right at the beginning.
"Out of nine of us, five are brand new councillors that have not sat on council before," he explains. "For them, it is going to be a real learning curve.
"It's a very different approach you have to take when you've got that many new people on board."
The evening was also a chance to give thanks and tribute to the outgoing mayor Paisley Donaldson. A video tribute was played and an ovation followed.
The following took the Declaration of Office:
Mayor: Paul Kelly

District Councillors: Sandy Cairns, John Gordon*, Heidi Lorenz

Councillors:
(Ward 1) Penny Varney*,
(Ward 2) Jo Morphy*,
(Ward 3) Steven Klinck*,
(Ward 4) Terry Pilger,
(Ward 5) Graeme Murray*

*New members of council