Collin Cameron ended his season in the best way possible: as the top cross-country sit-skier in the world.
After finishing the World Cup sit-ski cross-country season with the most points, he was awarded the Crystal Globe. "This was one of those dream goals I had when I started in the sport," he says.
Cameron adds it's "weird to say" but it does, in a way, mean he was the best sit-skier this season. He points out that he's "never been close" to winning a Crystal Globe before.
Like many athletes, Cameron says he wasn't keeping too close of an eye on the standings until the recent World Cup, which is the last event of the season. He explains his coach told him he was first, much to Cameron's surprise.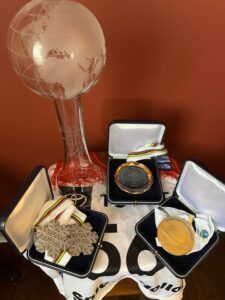 Along with winning a Crystal Globe, he wanted to win a gold medal at the World Championships, which he accomplished in 2019, and win gold at the Paralympics. Cameron hasn't done that yet – although he has won six bronze medals – but he says he is hopeful he will be in a position to accomplish that goal at the 2026 Winter Paralympics in Italy.
Cameron's trip to Utah for the World Cup was highlighted by a gold on the first day of the competition. He was joined on the podium by teammate and good friend Derek Zaplotinsky of Smoky Lake, Alb. Cameron says it was Zaplotinsky's first podium in his seven-year career. "It was one of the best days, not only of just the season but probably my whole career," says Cameron.
With the season over, the Bracebridge native is in Canmore, Alb. resting. "I'm already looking to next season despite the successes we had as a team this year," he adds.
Cameron says he will take time to rest until the spring when the training season starts. "I love what I do," he says, adding he will still be getting out almost every day to ski.