A sculpture created by Bracebridge artist Hilary Clark Cole to honour Miles Hammond has been installed at the Black Bridge.
Miles passed away in Feb. 2021 just before his first birthday after a battle with a rare form of cancer.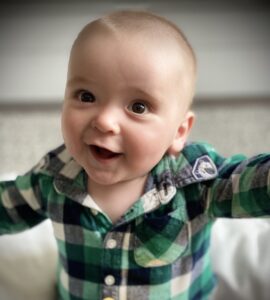 The memorial sculpture is a welded steel tree that stands 6.5 feet. When the sculpture was approved in April, Jennifer Clancy, Manager of Economic Development, and Kalleen Turchet, Economic Development Programmer, explained the Black Bridge was chosen as it's a quiet place that will allow people to reflect as well as serve as a "beautiful reminder of how precious this life is to all who visit and read about the meaning behind the sculpture."
"It was a pleasure to be selected by Kate and Kent Hammond to create this memorial sculpture," Clark Cole says. "The Hammond family has so graciously shared Miles' life and loss with the community. I am honoured to have had the opportunity to create the first piece of public art accessioned through the Town's Public Art Advisory Committee."
Matthiasville Rd. is also the same street Miles' parents Kate and Kent Hammond live on.
"We go by it quite often," Kent says. "It's a very important part of our daily routine. Every time we go into town we have to go past that spot."
He says they appreciate the work Clark Cole put into the sculpture, adding that she kept them in the loop every step of the way.
"It was pretty breathtaking to finally see it," Kate says about the unveiling that happened last week.
Between the sculpture, the scholarship fund being done in Miles' honour and the endowment fund at the Orillia Solider's Memorial Hospital,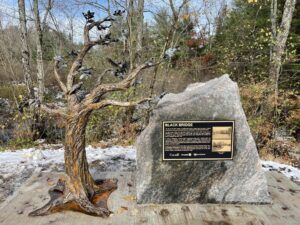 Hammond says they want to make sure Miles is never forgotten.
"It's been pretty amazing and heartwarming to hear from people," Kate goes on to say. "It's exactly what we were hoping for. We wanted it to be something special not just for our family, but for the community."
"Thank you to the Hammond family for making this very special contribution to the town's public art collection and to Hilary Clark Cole for bringing it to life," Bracebridge Mayor Rick Maloney says. "The Town of Bracebridge is committed to community wellness and vitality, and public art is something that brings people together and starts conversations. While Miles' time with us was short, this beautiful tree sculpture will help keep his memory alive and hopefully spark joy for all who see it."
The installation is the first piece of public art accessioned by the town since the creation of the Public Art Advisory Committee in 2020.