Protesters lined the sidewalks along Main St. in Huntsville in front of town hall Wednesday morning.
It was part of what has been dubbed the "1 Million March 4 Children." The national group, organized locally by Perry and Christy Graham, were protesting across Canada against "gender ideology."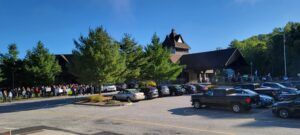 "We're trying to raise awareness that the schools are really crossing boundaries," said Perry Graham.
Earlier this year, Saskatchewan and New Brunswick adopted new gender and pronoun policies that made it so parental consent is needed for students under the age of 16 to change their given names and/or pronouns at school.
In Ontario, Stephen Lecce, Minister of Education, and Premier Doug Ford have touched on the subject, saying parents must be involved and informed of what is happening in their children's lives.
A spokesperson for the premier told the MyMuskokaNow.com newsroom earlier this month that the provincial government is not currently planning any legislation that will force teachers to disclose information to parents.
The Grahams joined protesters in front of Huntsville High School. The North Simcoe Muskoka and District Labour Council (NSMDLC) organized a counter-protest.
Over 100 people joined the protest while just over 50 people, including multiple Huntsville town councillors, were part of the counter-protest.
Both groups marched towards Huntsville town hall just before 11 o'clock and spent the next hour on opposite sides of Main St. as passersby shouted and honked their horns to offer support – and in some cases disapproval – to each side.
At one point, the protesters began singing O Canada and were joined by the counter-protesters in a moment of unity.
A handful of police officers were keeping a close eye on the situation throughout the morning, however, the situation never escalated beyond protesters shouting across the street at each other.
"It's not about parental choice," said Chris McConnell, Vice President of the NSMDLC, about the protest. "It's about anti-LGBT sentiments."
Huntsville Coun. Scott Morrison, who also serves as the town's Community Well-Being Navigator, was part of the counter-protest.
He said he doesn't disagree with one of the main points of the protesters, which is that parents should know about what their kids are learning and doing in school. However, he says parents shouldn't be influencing the curriculum. He said he has faith in school boards to properly educate children.
"Not every kid is a straight, cisgender person," said Morrison.
He believes that what is being taught in schools needs to be what kids see in their lives outside of school. "If we're not educating them on that, I think we're being negligent," added Morrison.
Christy Graham says students shouldn't be learning about a "specific lifestyle" just as they're learning about their own bodies. "You can choose whatever lifestyle," she said. "We are not homophobic or transphobic. We are just anti-sexualization of children."
Perry continues saying parents need to know what is happening to their children at school. "To suggest that parents don't have rights is certainly not something we would support," he said.
McConnell says it's no secret what's being taught at schools and points out that if parents take issue with what's in the curriculum, they can opt out. "It's as simple as that," he said.
He believes what is dangerous is potentially outing kids to their parents when their home may not be a safe environment to have that discussion. "A school needs to be a space for students," he said.
The Grahams argue the discussion should be happening at home or at church.
Christy says a school is an "institution that doesn't know your child" and parents should be allowed to instill their values and morals into their kids.
A similar protest also happened at Bracebridge and Muskoka Lakes Secondary School.