HUNTSVILLE, ON – Around 150 residents attended the first major meet the candidates night of the current federal election in Parry Sound-Muskoka.
It was a chance for voters to hear from Conservative Scott Aitchison, Liberal Trisha Cowie, the Green Party's Gord Miller and Tom Young of the NDP.
Questions were posed from local media partners and taken from the floor.
Following opening remarks a number of areas were delved into.
Two topics seemed to be top of mind among both candidates and onlookers; climate change and attainable housing.
Climate Change Platform
Scott Aitchison: The conservatives have a fairly lengthy plan. It focuses on technology and on taxes incentivizing Canadians to reduce their footprint and taking the challenge global because of course this is a global issue.
In terms of the flooding specifically I was involved with it very directly this past spring. The provincial government has listened to the municipalities to raise the alarm bells to say we need to do something a little bit different than what we are doing now because climate change has in fact changed the way the weather patterns are.
And so we need to look at how we manage the water system in Muskoka. And the province has listened to us. And as a federal member of parliament I would say I would be actively engaged in that collaborative process to make sure the tools are put in place and adjustments made to the water management plan that actually do make a difference and protect people's homes and businesses.
Tom Young: This is a global issue. It is affecting everybody around the world and of course right here in Parry Sound-Muskoka. The flooding and of course the droughts in summer time and the forest fires, which I never saw as a kid here. 
First and foremost thing we would do is act immediately and stop talking about it over many, many years. Start acting, we have to. We would stop subsidizing the big oil companies, giving them billions of dollars. 
Because if you are serious about climate change then you have to look to see where the issue is coming from so that is a really good start for that one and then move on from there. We would reduce emissions by 38.4 per cent by 2030. 
You've got to act right away. And we would create 300,000 new jobs by doing so. Many clean energy jobs.
Gord Miller: Of course we have a long, comprehensive job to address the climate issue. Of course we would put a price on carbon, we would eliminate fossil fuel subsidies as Mr. Young has indicated. We would ban fracking, and we would move transportation back onto the rails as much as possible. We need a working rail system in this country. We can get off the internal combustion engine eventually and get into electric transportation, electric cars. A number of other issues for a comprehensive plan.
Trisha Cowie: So the floods from this spring were caused by a number of… you can't put it on one thing. Climate change, the questions, it comes down to infrastructure, the ability to handle it, the provincial water management program.  It's not just a one size fits all solution. There are a lot of issues we have to tackle at the same time.
In terms of climate change a price on pollution is the best way that we can lower our emissions. We have to keep that price on pollution. We can't afford to take that one step on pollution and take ten steps back. We have to be able to mitigate risk for the future. It terms of what we are doing for people to help deal with situations like in a flood I know there is new interest free loans to help with retrofitting your house. I think that's really important we need to be able to upgrade our homes so we can respond appropriately when it happens.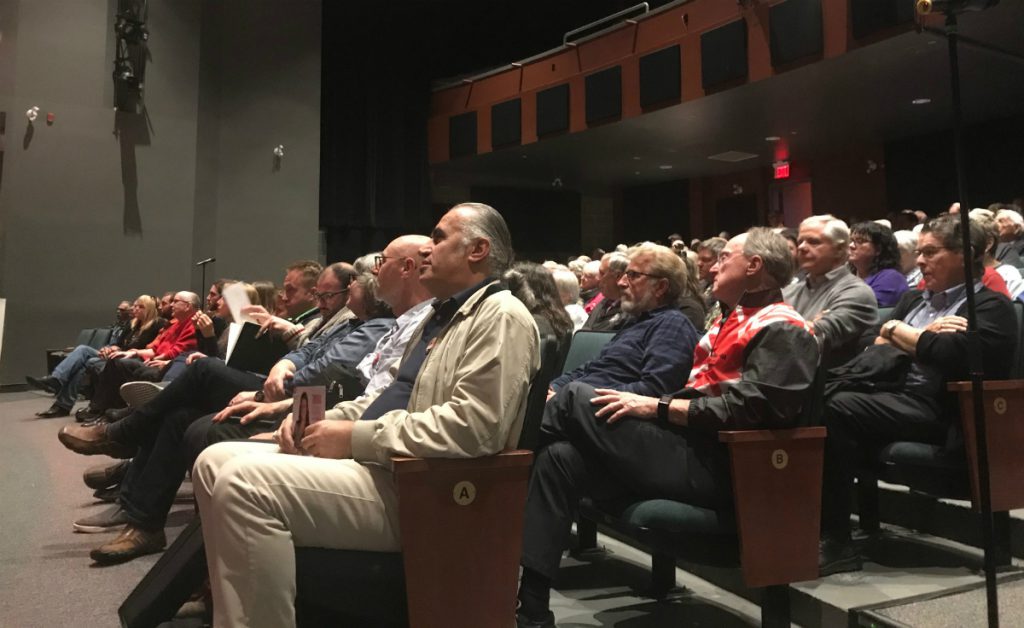 Housing
Scott Aitchison: Programs in the past have worked really well. In our context here in Muskoka the District of Muskoka is the authority responsible for housing and housing projects. One of the greatest programs ever was the capital subsidy. It was funded and marketed from the province and the federal government. It made up to $70,000, depending on the builders, available to make the cost of constructing affordable units more viable here in our community. It's expensive to build here. That's one of the programs I think is an effective way to stimulate the private sector to build stuff and the government doesn't have to own it forever. But it stimulates the private sector to get more units built and it's a great investment of those dollars and I would fight to get those dollars back.
Tom Young: Well it is important here. The talking has got to stop and the action has got to start. And that's what our government has to do and that's what we'll do. We've committed to investing in 500,000 quality, affordable homes across Canada. And if I was in Ottawa I would guarantee Ottawa would know all about Parry Sound-Muskoka and the need here. I'd be very loud about it to make sure we got our fair share of that. In fact Jagmeet (Singh – party leader) just announced today for rental units we will give immediate assistance up to 500,000 families of $5,000 per person to help them pay their rent. 
Gord Miller: Affordable housing is really ultimately written by the amount of money the federal government is willing to put up to support it. Scott's right, there are a number of programs that were proven and they got funded. We've got a plan for $1.5 million of support. But there are other approaches. Like having a federal minister of housing to coordinate between the provinces and the municipalities and get the federal government more involved in the role of housing. Also to create a Canada cooperative housing strategy. Co-op housing is a successful model the feds funded some twenty years ago and we think it needs to be redone, modernized and re-funded. 
Trisha Cowie: So I am very proud to tell you this evening that we have a national housing strategy. The government did implement this in 2017 and it came with an envelope of $40 billion and that has extended to $55 billion. In this riding alone we have already seen over $10 million invested into affordable and accessible housing. That's really important. There's a big envelope there already but you need somebody to fight for it and I am hoping that person will be me. It's also really important to understand is which of these parties, if any of them may cut that funding. We can't afford to cut that funding. We have a crisis in Parry Sound. We have a crisis in Muskoka. We need this investment to alleviate the hard times that people are going through in trying to find housing and maintain housing. 
Next Debate
The next candidates debate is being held Monday night, October 1st,  at the Gravenhurst Opera House.  Doors open at 5:30pm with the debate taking place between 6:00pm and 8:30pm. Attendees are encouraged to stay and meet with the candidates until 9:00pm