HUNTSVILLE, ON – Following a story about federal Liberal candidate Trisha Cowie having her campaign signs vandalized and stolen, a similar story is emerging from NDP candidate Tom Young.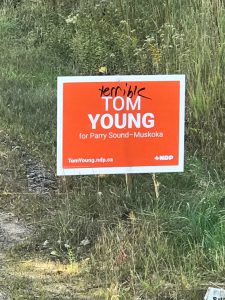 Following a meet and greet session held by the Huntsville Rotary Club at the Legion, Young and his manager James Moffatt revealed to MyMuskokaNow.com that nearly 100 signs have gone missing since the start of the campaign.
"These aren't just signs that are being kicked over," offered Moffatt. "They are being pulled out of the ground and taken."
Young said he knows signs aren't going to win or lose an election but he objects to the cost of them being lost and the sweat equity of the volunteers who installed them.
"It's going to happen a little bit in any election but these are bigger numbers of signs," he said.
Young has also had some signs vandalized but in a cheeky reference to a character he plays at Santa's Village each summer. Wags have put the word 'Terrible' above his name, for he is known as 'Terrible Tom' a boat captain at the popular kid's theme park.
"I don't mind that one," he says with a laugh.
Moffatt said the majority of the signs have been taken from roadside, public locations and intersections. He points out the campaign has been very meticulous in its placement of signs do to the variety of stringent rules that change based on a road being municipal or district jurisdiction.
The campaign estimates the total cost to be above $400 at this point.
Cowie had a number of signs vandalized in Gravenhurst, with a sharpie being used to give her image a blackface in a veiled reference to problems liberal leader and Prime Minister Justin Trudeau is going through in the campaign. The PM was exposed for three different pictures of a younger Trudeau wearing black or brown face with costumes in his twenties.