A standing room only crowd turned up to see Green Party leader and MPP Mike Schreiner.
He was speaking to a group of Parry Sound-Muskoka voters in Bracebridge Friday night. Schreiner, the first elected Green MPP in Ontario gave a brief introduction and then threw the floor open to questions from the audience. Those questions discussed a variety of topics, including floodwater management.
Schreiner expressed concern for those affected by the floods. At his request, arrangements had been made for Schreiner to visit a neighbourhood affected by the flooding and talk with homeowners Sheryl and George Manolakos there. They told him they had built their house two feet above the highest reported water levels at the time but now sandbags had to be deployed to keep the water at bay.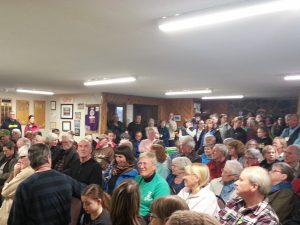 Schreiner called it ironic that this record-breaking spring flooding came after the biggest budget cuts announced last month were to the Ministry of Natural Resources and the Ministry of the Environment Conservation and Parks including 50% cuts to disaster response and the conservation authorities charged with flood management.
In response to a question from Kevin Trimble, chair of the Muskoka Watershed Council expressing concern that a review of the Muskoka water management plan might just focus on dams and controlling the flow water levels, Schreiner agreed.
"Any good water management plan needs to look at land management as well." It is about managing and protecting the surrounding forests and the land so that they can absorb and purify the water for us. "We should be taking advantage of the earth's ability to provide services for free," he said.
When asked whether he supports a basic income, Schreiner said, "Nobody working full time should be living in poverty". He said a basic income guarantee not only provides a floor no one should fall beneath but it's good for the economy as well and requires less administration than the present patchwork of supports.
Schreiner, a former entrepreneur himself, pointed out that having that floor could spur innovation. A person with a good idea could afford to take the risk to start a new business.
He added that lifting people out of poverty means fewer people in jail, fewer people needing emergency health care and a better educated population with more people able to achieve gainful employment and pay taxes.
Cuts to services such as education and health care were also on people's minds. In response to a question about education, Schreiner stated: "we must work together to save public education."
"Regardless of what the Premier and his Ministers are saying many people are losing their jobs," he added. At that point one person in the room called out "I've lost mine".
When the question of how the Green Party would manage the deficit was brought up, Schreiner pointed out that the fall economic statement cut taxes on the wealthiest 17 per cent reducing government income.
He also cited the 25 per cent subsidy on hydro rates introduced by the previous government and continued by the current one as costing taxpayers billions of dollars with much more of that flowing to those who can afford to use a lot of electricity.
Lastly, Schreiner mentioned that "Ontario has the lowest rate of return on our natural resources of any province." He stated royalties should be raised so that the province is getting a fair return with an increased share going to northerners and First Nations.
"The lack of action on climate change is detrimental to the economy … A healthy economy requires a healthy environment," Schreiner said. "More people work in green energy than in the oil sands".
As a province with a large automotive industry, Ontario should be looking to get a substantial share of the $250 billion that will be invested in developing electric vehicles. "Let's lead the revolution, not lose jobs to it".
The last question was from a 10-year-old child in the front row, asking Schreiner why he chose the Green Party. Schreiner summed up three reasons he got into politics: the environment, income inequality and good government, saying he wanted to do politics differently. "Politicians spend too much time fighting each other and instead of working together to solve problems."