No cuts to education. That was the chant from over 100 teachers at a protest rally.
The rally at Parry Sound-Muskoka MPP Norm Miller's Bracebridge office packed the sidewalk along busy Manitoba street around 4:15pm this afternoon.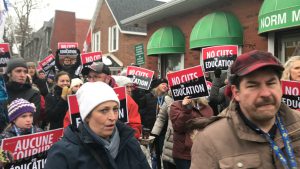 They were there to protest proposed budget cuts to education that could see up to $8 million cut from the Trillium Lakeland District School Board and nearly $1 billion to the provincial budget.
Ontario Secondary School Teacher's Federation District 15 President Colin Matthew led the energetic rally, asking teachers to keep up the pressure on all fronts to make education an untouchable item when it comes to budget cuts.
"If this government wants to keep Ontario open for business it needs to keep Ontario open for learning," Matthew said, referring to the Ford Government's frequent slogan.
"Public education Ontario is something that has been around for only about 150 years," he continued. "And in a very short amount of time we have managed to accomplish great things. We're at a point in history where we have the most literate, most technologically advanced workforce we couldn't even imagine 50 years ago."
Matthew told MyMuskokaNow.com that he understands why education seems to be the first line looked at when it comes to budget cuts.
"We know it's expensive to run a public education system," admits Matthew. "I think it's a popular target for governments. There is a perception that some in the public are anti-teacher. And frankly, I think that's the wrong approach.
"It's hard to ignore education and health care, they are the top two items in the budget, no question about it. But anyone who has taken any kind of a long view understands that slashing the future is not a solution to any of our problems."
Matthew says holding the rally outside of Norm Miller's office is largely symbolic, but knows that the long-serving MPP is mindful of his constituency, despite his position close to Doug Ford in the caucus.
"I think Mr. Miller has got a strong local connection," he says. "I think he cares a lot about his constituents. I think that is not the case for Doug Ford and a lot of the leadership in the Progressive Conservative party."
The budget consultation process wraps up this weekend, something Matthew eagerly awaits to see what is next.
"We'll know when the budget comes down whether or not we have been successful," he says. "It's not necessarily the end of the game but the beginning of the game. We are hoping for more money to be put into the system and not less. And that money reaches the students directly. Look around, the vast majority here are frontline education workers."