It is business as usual.
That is what CEO for the North Simcoe Muskoka Local Health Integration Network, Jill Tettman says following media reports last week that cuts could be coming to Ontario's 14 LHINs.  Those reports indicated the provincial government was looking to cut them down to five total.
"The North Simcoe Muskoka LHIN has not received any specific direction or information directly from the Ministry of Health," confirms Tettman.  "Either from the minister herself or the deputy. So what we have right now in terms of information was what was reported in those …media stories."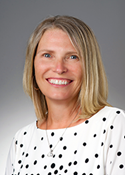 Tettman says there was a review done by a consulting firm looking at overall government structure on behalf of the Treasury Board. The LHIN system was one of those agencies being reviewed, but to date, there were never any results provided from that process.
Tettman has a long experience with local health planning as she was involved with the former District Health Council in Parry Sound Muskoka starting in 1990. She said what made that type of decision making frustrating is a lot of planning would be done, but there was no oversight or authority to implement those ideas.
Compare that to the LHIN system, and it is night and day when it comes to getting decisions made at a local level for local residents.
"The evolution of the LHIN was to bring all of that (decision making and planning) together in one organization," she explains.  "And originally the LHINs, when they were developed the 14 of them, had between 25 and 30 staff each.
"And it was for planning, funding, accountability, community engagement. We would work on capital planning. And so it was really supportive of an accountability framework for a number of health service providers across the LHIN to hold the providers accountable for the taxpayer's money that they were receiving."
Tettman believes there has been good work at the LHIN level but does admit more can be done.
"Now there have been opportunities for LHINs to do more and to integrate the system more," she concedes. "I think it's part of the evolution of where the health care system is going."
"I would just say that we are really proud of the work we have done," Tettman contends. "We recognize that governments have to make tough decisions. And we are going to be supportive and helpful in that transition and right now it is business as usual.
"We continue to provide patients care through our home care division. And we continue to work with our providers to support and help patients with a better experience in their health care.
"We are continuing to move forward on that front until we are told otherwise."