A planned women's march and rally were scaled back due to cold temperatures.
The Muskoka Women's March was slated to take place starting at the Huntsville Place Mall going to River Mill Park and back starting at 12:30 today.
Instead, the pre-march was moved into the mall where about sixty people listened to some guest speakers before the throng walked down to MP Tony Clement's office and returned, a total walk of about one kilometre in the minus 20 temperatures.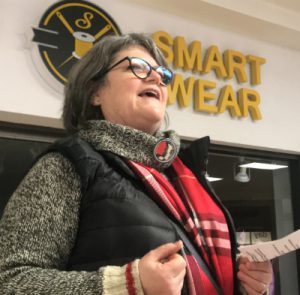 Nancy Osborne who runs the charitable group 'I Got This' spoke about her time spent working for the UN and Unicef and the struggles she has seen for women in those countries.
"I used to work for Unicef for women and girls in some of the most horrible places in the world," says Osborne. "Extreme poverty, war, natural disaster, terrorism. And in places like that and a lot of places in the world women don't have very many rights and in some places, they have no rights.
"In some of those places I met some of the most determined and courageous women I have ever met in my life."
She shared how she has heard from people saying things are not that bad for women in Canada. To that, she issued an emphatic statement.
"It's not a competition. So why march? Why do we do that? Well, yeah, it's better here than in other places but we have still got issues," she offers.  "We've still got Me Too, wage disparity, we've got murdered and missing indigenous women and even the backlash to a razor commercial."
Lauren Power, the executive director of Muskoka – Parry Sound Sexual Assault Services, spoke about why it is important to march.
"So we're here because we all care about women's equality," she starts. "One of the lessons I am always learning is to understand not only my own oppression as a woman, but my privilege as a white woman in our society.
"So that is the challenge I am putting out to all of you today is to understand the levels of oppression that our globe operates under. So we, as settlers in our region need to understand what colonization means. So the first job for Canadians in 2019 is to really take that in."
The Women's March Muskoka is in its second year and coincides with marches around the world both today and tomorrow.