A man who grew up in Huntsville is taking a walk across Canada.
Matthew Jefferson is calling it "The Walk to Remember."  He says it's an expedition to raise awareness for the missing and murdered Indigenous women and girls.
"But it's not only about awareness," the soft-spoken but eloquent 32-year-old told MyMuskokaNow.com. "It's also about helping break down the systemic barriers, the systemic racism that leads to this situation while opening up the lines of communication."
Between 1980 and 2012 the RCMP says 1,017 Indigenous women were murdered. However, activists say the total is at least 4,000.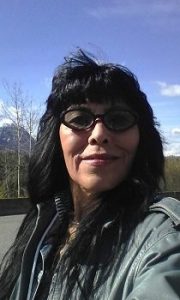 Jefferson's mother is Wet'suwet'en, a First Nations people from the northwestern Central Interior of British Columbia. Jefferson says a big part of his inspiration for his walk was his aunt, Frances Brown. The 53-year-old Brown went missing while mushroom picking in heavy forests north of Smithers on October 14th of last year.
He started the journey on June 1st in Victoria and is taking a bit of a break in Muskoka before heading back out on his 5,684 kilometre trek on December 17th. During that time he's kept track of the murdered and missing problem.
"Since my trip started, 52 have gone missing across Canada, and 27 bodies have been recovered.  That doesn't include suicides or Indigenous men," he points out.
Along the way, Jefferson has made stops in various communities and held talks with the locals about the issue and why he's doing what he's doing. He says what he usually hears from people at those talks is shock.  He doesn't think most people know about the full scope of the murdered and missing problem and Jefferson believes a large part of the media is doing a disservice to the missing and murdered Indigenous women and girls.
"It's not overly publicized, and those that do publish about it tend to desensitize people to the victims.  The ways things are worded take away the emotional connection, making it easy to ignore."
However, Jefferson believes, ignoring First Nations issues isn't anything new in Canada.  He points to things like residential schools, the Sixties Scoop, coerced sterilization of Indigenous women, and the 70 per cent unemployment rate in First Nations communities.
"It's been happening for the last 500 years.  Lots of people talk about reconciliation like it's already happened.  The Prime Minister apologizes once, but it's not enough. Reconciliation happens every day.  We have to work together every day on equal footing."
That lack of equal footing, Jefferson explains, is the result of historical and ongoing Canadian policies that lead to a perception of First Nations people being less than people, and that both the federal and provincial governments aren't doing enough to address the issues.
He's asking people to begin taking steps themselves, such as learning about First Nations issues, to help the process of reconciliation.  He's also asking people to look at their own behaviours.
"The mistreatment of Indigenous people is taught, not born.  We need to work together, Indigenous and non-Indigenous alike, to break down the barriers that are on both sides.  Only then can we heal."
Jefferson plans to end his cross-Canada journey in Cape Spear, Newfoundland (the most easterly point in the country) sometime in late February or early March. In the meantime, he'll be hosting a discussion in Huntsville tonight at Trinity United Church from 7:30pm to 8:30pm.  It's free and all are welcome to attend.