It was a full house at the Rene M.Caisse Memorial Theatre to watch the Bracebridge Council take its Declaration of Oath of Office.
It was the 18th such ceremony taken by the town's councils since 1971. (Four-year terms for council began in 2006, prior to that they could be annual or bi-annual.)
One by one, starting with Mayor Graydon Smith, councillors took the oath in front of friends and family.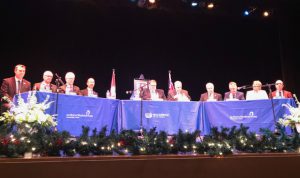 All oaths were administered by the Honourable T.M. Wood, a Judge from the Superior Court of Justice.
Smith, who is starting his third term as Mayor, spoke about the support he has received from family members and his wife. He also mentioned the recent passing of his father and the effect he had on Smith's life.
Smith highlighted the urgent need for affordable attainable housing and he was quick to point out it was not just a Bracebridge need.
"Housing is not a Bracebridge issue or a Gravenhurst issue," he began. "It is one that is important throughout Muskoka. And policies that can make a difference should be put in a place not just by us or our neighbours but by us all. We have no time to waste for those in need."
Smith also sent a message to Premier Doug Ford about the role municipalities play within overall governance.
"To our Premier and members of the provincial government, we are dependent on you to be a partner that recognizes our specific needs and help us achieve our goals without domineering or being too directive," said Smith. "Municipalities, including ours are a mature level of government and need to be treated as such.
"Give us the opportunity to let us show you what we can accomplish with the right resources."
With just one newcomer on board in first-time councillor Andrew Struthers, Smith said they would be ready to move quickly as a council in the new term.
Smith also took a moment to pay tribute to former councillor Lori-Lynn Giaschi-Pacini who ran against Smith in the mayoral race.
"I had the pleasure of working with her for 12 years and her dedication and willingness to advocate for what she believed in should be celebrated," said Smith. "Thank you for making an enduring difference to Bracebridge."
The following took the Oath of Declaration of Office:
Graydon Smith – Mayor
Steve Clement – District Councillor
Rick Maloney – District Councillor (Deputy Mayor)
Don Smith – Councillor
Archie Buie – Councillor
Barb McMurray  – Councillor
Mark Quemby – Councillor
Andrew Struthers  – Councillor
Chris Wilson – Councillor