Gravenhurst's TimberBeast Productions plans to host another play near a cemetery in town next year but this time they are giving area residents more of a heads-up.
Autun Smith, Artistic and Executive Director of TimberBeast, spoke to Gravenhurst council Tuesday to explain why they're performing Souls of the Shield at the mortuary near Mickle Memorial Cemetery in Gravenhurst. "After careful consideration and community feedback, we have decided to move the show inside," she said.
She added that she's been working closely with Amy Taylor, Manager of Economic Development, to determine what the best plan is.
Smith wasn't sure how many people would be inside the building for the performance.
"I am a storyteller and I look forward to continuing to share the narratives of this town," she said.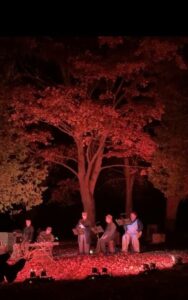 Last year, the not-for-profit was accused of witchcraft and satanism for performing a play at Lakeview Cemetery. They performed Souls of the Shield in Oct. 2022 and, despite the controversy, continued performing at the cemetery, but agreed to move the start of the performance up a few hours so it wasn't so dark outside.
One of the concerns from some residents was those involved were being disrespectful to the people buried at the cemetery.
Smith said they will work closely with the town—like they did last year—to ensure the play is put on respectfully. She told council moving it inside the mortuary would allow for better sound and crowd control. "This is a beautiful town monument that will hold these stories with revere and respect," she said.
Mayor Heidi Lorenz said she has seen many of Smith's previous plays, adding they're always well done. "We appreciate your contributions," she continued.