The beach area at Kirby's Beach Park in Bracebridge will be closed for at least two days according to Geoff Carleton, Director of Public Works, after sewing needles were found in the water.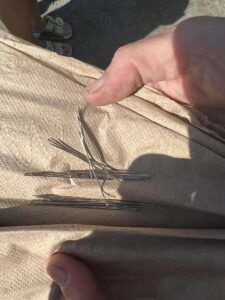 Initially, Carleton says "30 or so" needles were found near the shoreline by a concerned resident who informed the town. However, after further investigation, more were found.
Carleton adds the park, playground, washroom, and picnic tables will stay open. Only the beach area will be closed off.
"With any concern for safety, we take it seriously," says Carleton.
The Ontario Provincial Police (OPP) is also involved in the investigation. "In situations like this, we connect with the Bracebridge detachment and they work with us," says Carleton.
He adds town staff will increase site inspection and maintenance at the park.
The hope, Carleton continues, is the increased presence will prevent this from happening again.
Town officials say whether at Kirby's Beach Park or any other park, if anything suspicious is found, report it to the town or to the OPP.