Five years and a global pandemic, the Muskoka Steamships and Discovery Centre's new $9 million exhibits are almost ready, as is Wanda III's electric motor.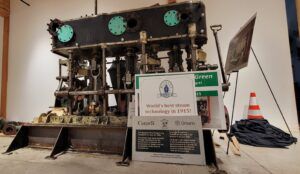 Ann Curley, operations manager and curator, explains there will be three new exhibits at the centre: Evolving Muskoka: Life on the Edge, Wanda III: Steam to Green, and Misko-Aki: Confluence of Culture will be featured on the first and second floors, respectively, of the newly expanded centre in Gravenhurst.
A new boathouse was built for Wanda III. Curley says the ship, built in 1915, will be outfitted with an electric engine.
Curley says they are on track to open the new exhibits in July 2023. She adds work on the boat and exhibits began in 2019.
"It's a big project for a small organization like us," says John Miller, president of the Discovery Centre. So far, he says over $7 million has been raised through grants and private fundraising. "We're trying hard to get across the finish line," he adds, pointing out that the COVID-19 pandemic has made things difficult.
During a tour of the newly built addition to the Discovery Centre given to the MyMuskokaNow.com newsroom, Curley explains that when entering the bottom floor, people will be greeted by a window looking into the boathouse where Wanda III will be docked.
One of the first exhibits that most will see will be about transformational technologies. "We're talking about what steam is, the trains, everything that steam impacted," explains Curley.
The first floor will feature exhibits on the first settlers, the history of music in Muskoka, and "economic drivers." Curley explains it will be about industries like logging that started hundreds of years ago but continue, albeit a little differently, today.
"What we want to do is show this happened and how it all evolved to the current day," says Curley. "Industries have changed, but not necessarily, there's a lot of industry with wood, music is still a big industry, arts and culture is still a big industry."
Curley says Patrick Boyer, a Bracebridge-born historian and author, was the lead historian for the first-floor exhibits.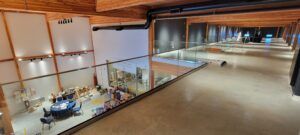 The Misko-Aki exhibit is on the second floor.
"We've had no part in the story development," says Curley. She explains Tim Johnson, who has previously worked at the Smithsonian National Museum of the American Indian, put together a group, which included members of the Muskoka Area Indigenous Leadership Table, to write the stories that will make up the exhibit. "We couldn't have asked for a better, stronger team," says Curley.
It's hard to believe, Curley adds, that the exhibits are only months away from opening. "I really admire the designers who are working on both projects," she says. "Their creativity brings all these stories to life."
"We're telling the history of Muskoka but it's got to be fun," says Miller. He adds that there has to be a connection and he believes they will be able to achieve that with a multitude of interactive exhibits, as well as some static displays. "As long as people have a great time and hopefully take something away from this experience then we've achieved our goal," he says.
Meanwhile, Miller says the group working on Wanda is almost done converting the 108-year-old boat to electric power. He explains the twin 100-horsepower electric engines will be able to sail at seven knots for about five hours without recharging. However, two generators have been installed onboard that can charge the 12 lithium-ion phosphate batteries that power the engine while the boat is still sailing.
He believes the generators will allow them to take Wanda to the upper lakes like Rosseau and Joe.
Before it can set sail, Miller says Transport Canada needs to give its stamp of approval. He is hopeful they will be allowed to have up to 49 people on board for cruises but says that will be up to Transport Canada.
"Our organization is all about preserving history for future generations," he says.
Miller expects between 15,000 to 25,000 new visitors will stop by the Discovery Centre over the next three to five years. "It's an aggressive target but we're hopeful that we're going to achieve that, perhaps even quicker than 3 to 5 years," he adds.
Curley hopes the exhibits inspire people to visit places like Muskoka Heritage Place in Huntsville or the Muskoka Lakes Museum in Port Carling to learn more. "We're not doing this independently," she says. "It's supportive of everybody."