A special card was sent by residents at The Manor At Gravenhurst to Muskoka Beechgrove Public School as a thank-you for inviting them to the school's annual holiday concert.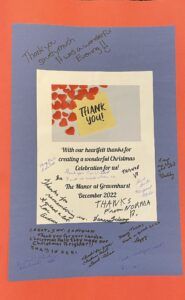 The school's annual Christmas concert was forced to go virtual this year. Katrina MacDonald, Assistant Secretary at the school, says parents were invited as well as residents of The Manor.
"I was laying in bed one night and thought it would be great to do a whole event for them," says MacDonald.
MacDonald explains the students, on top of making cards, created decorations to be placed around the home. As well, MacDonald organized having Boston Pizza and Well Fed drop off food and desserts for the residents. A menu was drawn up by Boston Pizza while Well Fed brought a few batches of sugar cookies for the residents.
The card from The Manor, which was signed by many staff members and residents of the retirement home, says "with our heartfelt thanks for creating a wonderful Christmas celebration for us."
"The residents were just thrilled," says Joanne Fairbrass, Life Enrichment Manager at The Manor. She explains she was motivated to make the card and have some of the home's residents sign it after how "special" the event ended up being. "We were blown away by the community spirit," she says. "It made the residents feel so valued and included in the community."
"They were chatting about it for days after," she says about the festivities.
MacDonald says she heard about how the home was forced to cancel its previously scheduled holiday plans because they had dealt with multiple COVID-19 outbreaks in the lead-up to Christmas day.
As well, Fairbrass says staff were "utterly delighted" to be included and sit with residents and enjoy the food and concert. "Normally, they're dashing around preparing things," she says.
"The smiles were ear to ear," says Fairbrass. "It was wonderful for residents to see how appreciated they are in the community. It was lovely seeing the little ones singing and dancing."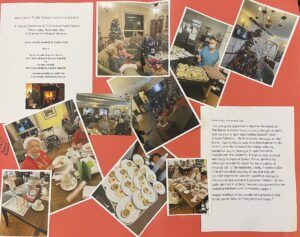 "I think parents really appreciate the way our school interacts in the community," says MacDonald. "We always try to do something special around the holidays."
When the card arrived, MacDonald says school staff excitedly paraded it from class to class. "They were so excited," she says of staff and students. "It's just a sense of community when we can do stuff like this for people in our community."
MacDonald explains the card will go from class to class to be displayed for a day or two. Once each class gets its turn, she says it will be proudly and prominently displayed in the school's office.
"It's been a tough few years so I think just spreading kindness is what we all need to do," she says. "It's so important to continue to spread kindness, especially in our own community."