Monday night's return of the Salvation Army South Muskoka Ministries brought boxes and boxes of food for people in need in South Muskoka.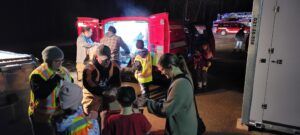 April Keeping, Corps Officer/Pastor with the Salvation Army, estimates well over 200 milk crates and cardboard boxes are packed to the brim with things like canned soup, vegetables, fruit, rice, late-night snacks, and every other kind of non-perishable food imaginable. It will all be distributed over the holidays to those who stop by the Salvation Army's food bank at 456 Manitoba St.
It was all collected in the span of a few hours Monday night by members of the Bracebridge Fire Department and Muskoka Paramedic Services. Brandon Keeping, Corps Officer/Paster with the Salvation Army, went door-to-door with some of the firefighters and says they were thrilled to see the program return after being on hold since 2019 because of the COVID-19 pandemic.
"They were just so happy to be doing it again," says Keeping. He adds one firefighter mentioned to him how disappointed they were to have not been able to collect food for the program for the past couple of years.
"A lot of people when they saw the fire truck coming down with the lights and sirens thought 'oh my goodness what's happening then they saw us walking up with smiles on our faces," says Keeping. However, once they figured out what was going on, they went through their kitchens and donated what they could. "I've never seen anything like this," he says.
Keeping says many people also used their personal trucks to collect food, adding some companies stopped by unannounced to help as well. "It seems like just about everybody and anybody came out to help," he adds.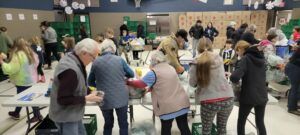 "We've prepared and hoped people would show up and they did," adds April Keeping. The couple is new to their roles so this was their first time organizing the event. She says they relied on the fire department and paramedics to help guide them through. "They took care of us as we were struggling to envision what this would look like," she says.
"There is definitely an increased need, just in the day-to-day food boon services we offer throughout the week," explains Keeping. She says there is more of a variety of people stopping by for support. "Everyone is feeling the pinch," she says.
"This is more than I ever expected," says Brandon. He adds that when he and April were preparing to move to Bracebridge, they were told about this event but thought it would only be a "half-hour thing"
"It's beautiful to see," he says of the community's support.