Through Monsignor Michael O'Leary Catholic School's "Socktober" fundraiser, hundreds of pairs of socks – and some food – will be donated to the Manna Foodbank.
Sarah Geer, a teacher at the school, says 20 of her grade 2/3 students took part. "We were learning about acts of service in our religion class," she explains. Geer says she felt like a "real life" act of service would be great to help teach the lesson.
When she brought the idea forward, she says her students jumped at the chance to help. "They made posters, they made announcements over the P.A. system," she says. "They were so excited to do that. They were super animated."
"It makes me really happy that we're helping all the people for the winter," says seven-year-old James Kowlwak.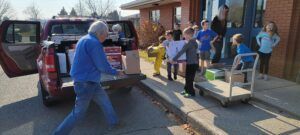 A total of 743 pairs of socks were donated to the food bank along with close to 1,000 food items.
"We're helping 743 people have cozy feet for the winter," says Seven-year-old Matthew Hewlet. "We're also giving them lots of food."
As part of the lesson, Geer says she also taught her students about what the food bank is, how it works, as well as how and why people use it.
"We wanted to try something new and exciting and they totally bought into it," says Geer.
The students were eager to help lift the heavy boxes of socks and food into the back of the pick-up truck Sam Robinson, President of Manna, drove to the school. "It's wonderful," she says. "They're having so much fun with it."
She jokes that the food bank could use the students' energy at their headquarters at 345 Ecclestone Dr. in Bracebridge. "They're doing good things and helping the community," she adds.
Geer says one of the boys said to her "wow, that's 743 people that we're helping" and it brought a smile to her face. "That's the piece I want them to get," she says.