The story of Penny and the Trail of Wonders will be told along the trail at Woodchester just outside of downtown Bracebridge.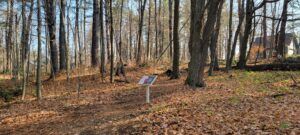 The story was created by Courtney Murrell with the illustration done by Kristin Wright. "The story is from my own perspective on how I viewed the trail when I first moved here," says Murrell. She moved to town in the summer of 2019 with her husband, kids, and dog. The trail at Woodchester was the first one she walked with her family. "I loved the essence of the park," she says.
Bracebridge Mayor-elect Rick Maloney pointed out that Wright's connection to the town dates back to over 10 years ago when she was featured during Art in the Park at Memorial Park. She has since opened Black Velvet Tattoo in Bracebridge.
The story features eight pages along the trail about Penny and her dog Ralph. "I thought of myself as a young girl," explains Murrell. "I've always loved nature. Hiking is a huge part of my family time right now with my family."
Murrell compliments the work Wright did saying the illustrations turned out exactly how she envisioned.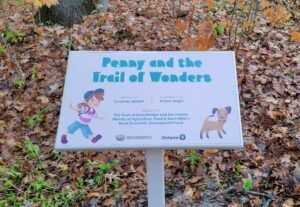 Bracebridge Mayor-elect Rick Maloney says this is part of the town's Downtown Master Plan. One of the eight locations identified as "areas of interest" was Woodchester. Maloney says the storybook trail brings attention to the history of Woodchester and gives those reading it an opportunity to reflect.
Thanks to a grant through Ontario's Rural Economic Development fund, Maloney says they were able to add new lighting along the trail, as well as a new bench and picnic tables.
Along with the newly unveiled storybook trail, Maloney pointed out how the town is continuing to work on building a reflecting platform at Woodchester. "We're still working on some of the logistics for that on where it will be placed," he says.
"We want to keep this park in the same kind of tradition and the same flavor that the Bird family donated to us," continued Maloney. "That is to have an area where people can come spend some time connecting with nature, see it in its natural habitat."