It's not often businesses celebrate their two-year anniversary but for Andy's House it serves as an important reminder of the progress they have made.
Andy's House is a residential palliative care home located in Port Carling. It's run in partnership with the Andy Potts Family Memorial Foundation, which is named in honour of OPP Constable Andy Potts who tragically died while driving through Bracebridge with his partner en route to a call.
Matt Steer, public relations and fundraising specialist for Hospice Muskoka, says when Andy's House opened in Oct. 2020, Hospice Muskoka, which operates the palliative care home, had 12 nurses and personal support workers (PSWs). Since then, he says they have cared for 180 residents and have nearly double the number of nurses and PSWs working full-time.
"If you speak to any of the families that have experienced the services of Hospice Muskoka at Andy's House first hand, they will only speak to the incredible care and the kindness and the quality of life their loved ones have received," Steer says.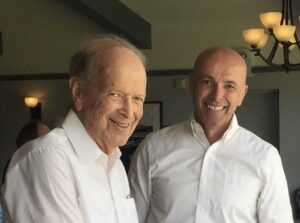 Doug Crichton joined the volunteer board for Andy's House in April 2022. In Sept., his father Richard, who was suffering from a bowel disease was admitted after being transferred from a hospital in the Greater Toronto Area. He passed away at the age of 97 on Oct. 1. "We realized it was time for him to be demitted from hospital and it just came to me that Hospice Muskoka, Andy's House, would be perfect," Crichton says, adding that most of his family lives in the area.
The transition, Crichton says, was "seamless" and he credits the staff with helping him, his dad, and family through the process. "The staff were absolutely amazing," he says. "They're just such kind and caring people and really open to making sure it's the most caring, welcoming, and inclusive kind of place that it can be."
"A few times I said to the staff that I didn't realize this was ever going to happen," he continues. "This place where I'm doing volunteer work would become such an important place for my family and my dad."
Andy's House has eight beds with three funded through Ontario Health. The five additional beds are funded through a partnership with Muskoka Algonquin Healthcare. Steer says the six-month agreement ends in January, at which point hospice is confident they will be able to acquire provincial funding. "It's still a waiting game," he says. "Nothing is set in stone until it happens."
The District of Muskoka has sent two letters in support of hospice getting permanent funding for Andy's House in May and June.
However, he points out that provincial funding covers the staffing costs for the beds with the rest of the money needed by hospice coming through community donations and grants.
Looking forward a month, Steer says a pediatric room will be operational at Andy's House. "Once that's operational, that could make a huge difference," he says, adding it will allow them to reach the more rural area, too. Steer explains the room will be beautifully decorated for kids with spaces for parents as well. "It's a difficult topic but it's something where if you're in that situation, you want the best possible care," he says.
While not yet confirmed, Steer says hospice is also looking to create satellite offices for Andy's House in Bracebridge and Gravenhurst. "There's a misconception that our services are only for those in Port Carling or Muskoka Lakes," he says.
Steer is also hopeful a butterfly garden will be created sometime next year.
The main priority, Steer says, is locking up the provincial funding for the eights bed and the pediatric room. "We want to ensure the future of Andy's House as a care facility is safe," he adds.
"It's the ultimate destination for all of us," Crichton says. "We're all going to die. When you can do it in a place that's so beautiful and surrounded by people that really care and are there to support you that's exactly what you would want."