Helping Your Child Find the Right Mentor!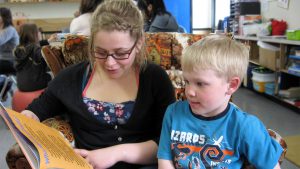 "One size fits all" might be ok for some clothing.
But when it comes to mentoring children… one style definitely doesn't fit all. There's many different types, styles and techniques needed for children depending on their needs, personalities and age.
The Mentors
You might be thinking… why does my child need a mentor? Just like your child has a coach for learning sports, or a teacher for learning school… a mentor is a coach and teacher who helps your child learn how to navigate life.
At Big Brothers Big Sisters of Muskoka they view mentors as a person, couple, or family who share their time, knowledge, skills, and experience to help guide children. Mentors are role models who advise and challenge your child to reach their full potential!
The Kids
As a kid your Mentors/role models are some of the most important people in your life. You look up to them, learn from them, and in a lot of cases… want to be just like them when you grow up! So it's important your child feels comfortable with the person(s) mentoring them.
So Many Choices
Finding the right mentor for your child can be a daunting task, but before you start looking, you need to decide with your child what kind of mentoring will work best for them! Big Brothers Big Sisters of Muskoka offers 4 different programs to fit your child with the right Mentor and Mentoring style. They are…
The Big Brothers and Big Sisters,
Big Couples,
In-School
and PRISM Mentoring Program!
Each program provides a different opportunity for children and youth to have a role model(s) they can talk to and share the experience of growing up with!
Helping Your Child Pick a Mentor/Mentoring Style
Finding the right mentor/mentoring style for your child can be tricky. There's several factors to consider!
Does your child feel more comfortable one on one, or with a couple/group?
Does your child need a mentor who also identifies as LGBTQ+?
Does your child feel comfortable with their mentor?
Do you feel comfortable leaving your child with their mentor?
And many more!
Feeling Overwhelmed Yet?
You are not alone! Choosing the right mentor to help influence your child is no small task. Which is why organizations like Big Brothers Big Sisters of Muskoka exist!
At Big Brothers Big Sisters of Muskoka, finding the right mentor for your child begins the moment you contact them! And not only is each child supported by their mentor, but by a case-worker who helps you and your child navigate the world of Mentoring!
When your child is placed with the right mentor, the result can be a life-changing experience for both mentor and mentee. What's more…after seeing the positive impact a mentoring relationship has on your own child, you just might want to become a mentor too!
Get Started Today!

Learn more about helping your child find a mentor or to volunteer by contacting Big Brothers Big Sisters of Muskoka!
Call 705-644-9914, check them out on Facebook @BBBSofMuskoka, or visit Muskoka.bigbrothersbigsisters.ca!
---