2022 CLSM 50/50 Fundraiser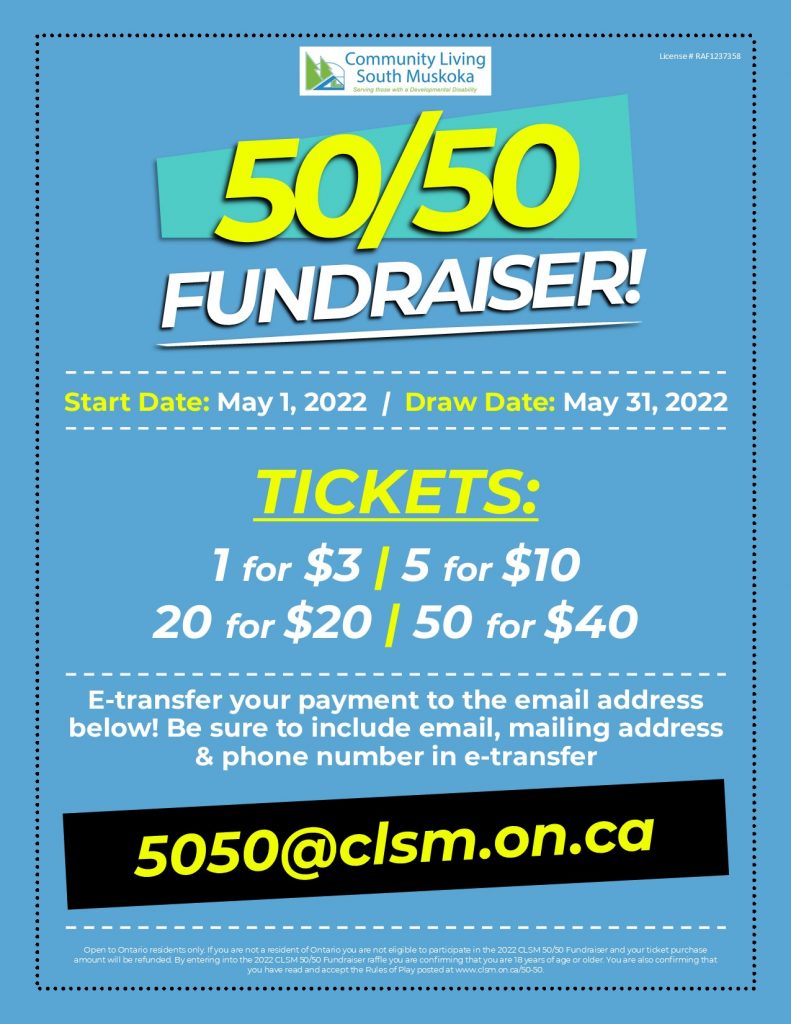 Open to Ontario residents only. If you are not a resident of Ontario you are not eligible to participate in the 2022 CLSM 50/50 Fundraiser and your ticket purchase amount will be refunded. By entering into the 2022 CLSM 50/50 Fundraiser raffle you are confirming that you are 18 years of age or older. You are also confirming that you have read and accept the Rules of Play posted on this web page. When the 2022 CLSM 50/50 Fundraiser concludes, one winning ticket will be drawn. Half (50%) of the total proceeds raised will be retained by CLSM and the other half (50%) of the proceeds to be awarded to the winner of the draw.
Ticket Prices:
1 ticket = $3
5 tickets = $10
20 tickets = $20
50 tickets = $40
Purchase Instructions:
To purchase tickets, send e-transfer that corresponds to the ticket prices above to
[email protected]
Ticket buyers will receive successful e-transfer confirmation emails containing the e-transfer confirmation reference number as well as instructions for how to view the draw. YOU WILL NOT RECEIVE PHYSICAL TICKETS OR TICKET NUMBERS. See below for instructions on how to request a physical printout of your ticket numbers. All e-transfers are securely monitored by both CLSM and the Royal Bank of Canada Bracebridge Branch located at 37 Manitoba St, Bracebridge, ON P1L 1S6.
Requesting a Physical Printout of Your Tickets:
If you wish to receive a physical printout of your tickets we can mail this to you upon request. Please write to Taylor at
[email protected]
if you wish to have your tickets mailed to you.
Draw Details:
Ticket sales close on May 31, 2021 at 12:00pm and the draw will take place on May 31st at 5:00pm at the CLSM Head office located at 15 Depot Drive, Bracebridge, ON, P1L 0H1. A video of the draw will be streamed live on our CLSM Facebook page and posted at
www.clsm.on.ca.
The winner will be contacted and an e-transfer will be sent from CLSM to the winner containing 50% of the total funds raised.
[vista-promotional-carousel]
[vista-promotional-carousel format="tall"]