Last night wasn't that chilly but it was deemed the Coldest Night of the Year.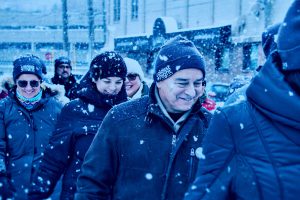 Community-minded folks in Huntsville and Gravenhurst donned their CONY hats and walked up to 10 kilometres as part of the national fundraising initiative that sees teams and individuals walk in support of local charities that fight poverty and homelessness. Combined the two community events raised $70,262. 
Walkers in Gravenhurst hit 211 per cent of their target, bringing in $42,385. 30 teams participated with the Walking Curlers bringing in the top amount of $5, 160. The walk was organized locally by Gravenhurst Against Poverty (G.A.P).
A team made up of volunteers from the Gravenhurst Fire Department brought in over $3,000.
In Huntsville 12 teams managed to nearly hit the $30,000 target, raising over $27,000. The Table Soup Kitchen  Foundation was the Huntsville organizer of the CONY walk.
The Town Walkers led by Councillor Jason Fitzgerald managed an eye-popping $5,655.
All money raised goes to the central Coldest Night of the Year organization and then grants worth 70 per cent of the money raised come back to the local charity organizers.