Illegal construction continued into the late hours at Bala Falls on Friday and Saturday night.
That according to new councillor for Ward A, Glenn Zavitz. He visited the site last night (Saturday) around 9:15pm along with councillor Ruth Nishikawa, their respective spouses, and one other person.
According to Zavitz, it was business as usual for the work crews from Swift River Energy Limited, as a new shift had started for the evening. Local residents have been complaining about work going until the early hours of the morning as the company building the Bala Falls Hydro project battle looming deadlines by extending workdays with three shifts a day.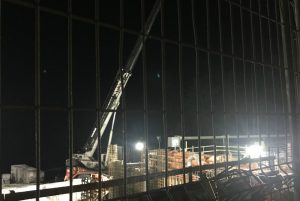 The current agreement between the Township of Muskoka Lakes and Swift River Energy calls for work to go no later than 9:00pm seven days per week.
Zavitz approached the lead hand on the construction site to inquire as to why the bylaw was not being adhered to. This led to a phone call to an official at the construction company's office in Quebec.
"He put me on the phone with his Quebec City supervisor," explains Zavitz. "And the guy told me they would not be stopping. They're not honouring our bylaws."
This did not sit well with Zavitz, who has only been on the job less than a month following his October election win.
"By (Monday) morning we'll likely have five to seven formal complaints of their obvious breaches of the bylaws," says Zavitz. These complaints are going to be presented to the Town of Muskoka Lakes bylaw office, where they will be investigated and $150 fines possibly levied for each day a complaint is registered.
He says a patrolling OPP officer stopped and had a quick conversation. According to the officer he has seen the after-hours work taking place for nearly a month. On Thursday MyMuskokaNow.com asked Vice President of Development at Swift Energy, Nhung Nguyen, how long the triple shifts had been going, and she indicated just a few days.
Failure to stick to that schedule became a hot topic at Muskoka council on Friday as an offer from Swift River Energy to pay a voluntary $1000 daily fine with incremental increases was turned down.
Council, instead, opted for enforcing the existing noise and construction bylaw which would see a fine of $150 levied for each offense.
Zavitz says he thinks it's important to send a message that builders and developers can't do what they want and pay for the privilege.
"If we accept some kind of an agreement with a developer for money to turn a blind eye to our bylaws then we've just made it okay for everyone to simply give us money and let them have their way with our township," he says. "That's not at all what the spirit of council's decision on Friday was."
Zavitz said he was attending the construction site to ensure that it was properly documented that Swift River was not in compliance. He wants to make sure there would be enough evidence for the Muskoka Lakes bylaw officer to act on the complaints from residents.
Related Stories