Everyone had their hands up as Sawdust City Brewery in Gravenhurst hosted the grand finale of Community Living South Muskoka (CLSM) Idol.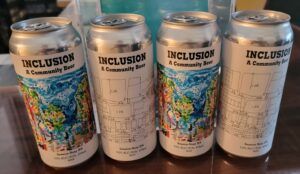 The event served as a way to launch CLSM's beer collaboration with Trestle Brewing Company in Parry Sound and Sawdust. Chris Pettinger, co-founder of Trestle says most of the proceeds from sales of Inclusion – A Community Beer will go to CLSM.
The beer can be bought at Sawdust at 397 Muskoka Rd. in Gravenhurst.
Pettinger says the beer is full of "citrusy goodness" and is pretty refreshing on a hot day. "It's selling out very quickly," he adds, noting the beer is only a limited run.
"These are organizations doing important work in our communities," he says of CLSM and other Community Living groups. "Every penny that goes into these organizations helps our community out."
Krista Haiduk-Collier, Chief Executive Officer for CLSM, explains Trestle called them to pitch the idea, adding they run a similar program with Community Living Parry Sound. She says Sawdust is a frequent collaborator with Trestle and the partnership was born.
"It's all about community living and inclusion," says Haiduk-Collier.
With May being Community Living Month in Ontario, she says there was no better time to launch the initiative.
Natalie Archer, Chief Operating Officer at Sawdust, says the partnership meets one of their goals. "We're really community-oriented," she says. "We want to make sure that everybody is included and everybody is welcomed in our space."
"We're all stronger together, rather than individuals," says Archer.
Amy Decaire, Supervisor at CLSM, and Kelly Cleland, Manager, were part of the group that was tasked with coming up with an idea for how to launch the beer. Throughout May, CLSM held an idol competition with the finale happening Thursday night at Sawdust.
"We're so proud of all of our idol performers," says Cleland.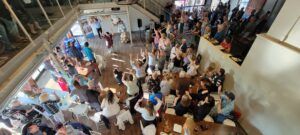 Vanessa Wilson was the winner after a rousing performance of Ottawan's Hands Up (Give Me Your Heart). Tom Peterson and Steve Green placed second and third, respectively.
Decaire says seeing the show go off without a hitch made all the effort that was put in behind the scenes worth it. She, Cleland, and other staff from CLSM jumped in to help Sawdust staff serve guests who packed the brewery.
"Everybody that's a part of our agency is here to support it and enjoy the night," says Decaire.
"Communities are stronger when we're all together," says Haiduk-Collier. "It talks about the great qualities skills and attributes that people with disabilities bring to make a strong and vibrant community. That's what inclusion is all about."
"Cheers to inclusion," says Pettinger.