The newly formed Gravenhurst council is ready to get to work.
A near-capacity crowd at the Gravenhurst Opera House took in the first meeting of the new Gravenhurst council. Among the attendees were outgoing District of Muskoka Chair, and former Gravenhurst mayor, John Klinck. Parry Sound-Muskoka MP Scott Aitchison sent a recorded video offering his congratulations and support of the new council.
Mayor Heidi Lorenz cited a statistic from the Federation of Canadian Municipalities that says 28 percent of council positions in the country are held by women. Only 18 percent of mayors in Canada are women. "Yet here we are, a council elected by you, of seven women and two men," she said. "A sure sign times are changing."
She cited housing, transit, and communication as her priorities. "The road ahead will be rocky sometimes, but I promise the triumphs will outweigh the struggles and together we can clear the path for a bright future in Gravenhurst," she said.
"Decisions made today will impact generations to come," added Lorenz.
Outgoing Mayor Paul Kelly and his wife Sue were unable to attend because they're currently in South Carolina. However, at the request of Lorenz, former Mayor Paisley Donaldson took his place to present Lorenz with the chain of office.
Kelly did join the inaugural meeting via Zoom to say thanks to the community, council, and town staff for their support over his four years as mayor and wish the new mayor and council well. A tribute video was shown set to Roy Rogers' "Happy Trails" was shown with pictures of Kelly's time in office.
He joked "it couldn't be more appropriate" for him to say goodbye via Zoom considering most of his time as mayor was spent on the platform. "Despite the challenges of the past few years, we did accomplish a lot," he added.
"You will undoubtedly face a lot of challenges," he said. Kelly wished council well and said he's confident they will lead Gravenhurst forward.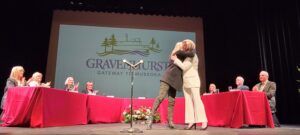 Donaldson explained that the chain was donated to the town by Rubberset Co. with Don Holstock being the first to wear it. She called the chain a "symbol of power and prominence" adding "it acknowledges the responsibilities, authority, and dignity attached to the office of the chief elected officer."
"Mayor Lorenz, wear this chain with pride and dignity," said Donaldson. "You earned it and you're very well deserving of the honour and responsibility that comes with it."
Donaldson, who was mayor when Lorenz was first elected to council in 2010, says she was the second woman to be mayor of Gravenhurst, following Wanda Miller who served 50 years prior. "It is refreshing that it didn't take another 50 years for the next woman mayor to be elected," she said to laughs and applause from the crowd.
After lawyer Cathleen MacLennan administered council's oaths of office, council and committee appointments were approved. Randy Jorgensen was appointed as deputy mayor, Sandy Cairns was named acting mayor, and Ward 5 councillor Christina Hunter was named Gravenhurst's alternate for district council.